Excessive sweating causes :
Excessive sweating causes are listed in this article. Hypersexual disorder is known as the condition that leads to excessive sweating, and sweating may occur in exceptional circumstances or situations, such as sweating during cold weather, for example, or without any stimuli at all, and may occur as a result of other medical conditions such as reaching menopause or hyperthyroidism.
It is true that hyperhidrosis is often uncomfortable, but there are many treatments that may give you some relief.
According to the National Institutes of Health, 4.8% of Americans suffer from the phenomenon of hyperhidrosis, but most sufferers of this phenomenon are not seeking treatment, perhaps because they are not aware that it is a treatable medical condition.
Types of hyperhidrosis and its causes
Sweating is a natural response to certain conditions, such as warm weather, physical activity and tension, as well as feeling frightened or angry, but if you suffer from excessive sweating, you will often sweat more than usual without a clear reason. The main cause varies depending on the type of hyperhidrosis you experience:
Focal hyperhidrosis (primary)
In this case, excessive sweating occurs in the areas of the feet, hands, face, head and underarms, and this condition usually appears in childhood, and it should be noted that about 30-50% of those who suffer from this type of hyperhidrosis have recorded similar cases in the health history of their families.
Generalized hyperhidrosis (secondary)
Usually caused by either a medical condition or a side effect of using some medications, this type usually appears in adulthood, and may cause you to sweat throughout your body or in a specific area, and may also sweat during your sleep.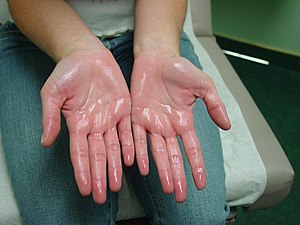 Among the most prominent conditions that may cause this type of excessive sweating:
 heart disease.
 cancer.
 Adrenal disorders.
 brain attack.
 Hyperthyroidism.
 Reaching the age of menopause.
 Spinal cord injuries.
 lung diseases.
 Parkinson's disease.
 Infectious diseases, such as tuberculosis and HIV.
Several types of prescription or over-the-counter medications may also cause hyperhidrosis. Although sweating is a rare side effect, it is a common side effect of some antidepressants in particular, including:
 Desipramine (Norpramine).
 Nortriptyline (Pamelore).
 Protriptyline.
People who take pilocarpine may also experience dry mouth or zinc as a dietary supplement with excessive sweating.
Symptoms of hyperhidrosis
Symptoms of hyperhidrosis include:
 Excessive sweating appears for more than six months without apparent cause.
 Sweating occurs on both sides of the body.
 The occurrence of excessive sweating not less than once a week.
 Sweating interferes with your daily activity (such as work or your relationships with others).
The occurrence of excessive sweating before the age of 25 years.
 Not sweating during sleep.
 Family history of excessive sweating.
These factors can be used as a sign of primary focal hyperhidrosis, but this does not obviate the need to see a specialist for an accurate diagnosis.
In the event of diffuse or excessive sweating in a specific place of the body, it is more likely that you suffer from generalized (secondary) hyperhidrosis, and in this case it is necessary to see a doctor to find out the main cause of this.
Because some of the other symptoms that may accompany the phenomenon of excessive sweating may be serious, you should consult a doctor about the emergence of any other unusual symptoms with hyperhidrosis.
When should I see a doctor?
Because hyperhidrosis may be an indication of another serious illness, it is advisable to contact a doctor immediately after noticing any of the following symptoms (with hyperhidrosis):
 Weight loss.
 Sweating mainly during sleep.
 Fever, chest pain, shortness of breath and a rapid heartbeat.
 Feeling of pressure or constriction in the chest.
 Unexplained prolonged sweating.
How is this disease diagnosed?
First of all, your doctor will ask you some questions about the phenomenon of sweating you are experiencing, such as when and where it occurs. The doctor performs some tests, such as blood and urine tests, to clearly identify your condition.
The doctor will often resort to learning about the family's medical history, and relying on the results of a physical examination to diagnose the condition of hyperhidrosis, and this is not the only way, as there are many other tests and tests that help to diagnose as well, but it is less common.
In one way to test for hyperhidrosis, drops of iodine (usually used to detect starch) are placed on the sweaty area, then starch is sprayed over this area after the iodine dries first, if the starch color changes to dark blue, you suffer from excessive sweating.
As for the paper test, it is by placing a special type of paper on the sweaty area, then the weight of this paper after it absorbs your sweat, and the heavy weight of the paper indicates excessive sweating.
The doctor may recommend a thermoregulation examination, in which, similar to the aforementioned starch and iodine test, a special powder is used that can detect moisture, as the color of this powder changes in areas with excessive sweating.
Sitting in a sauna or sweating room may be a good way to detect hyperhidrosis. If you suffer from this condition, you will likely sweat your palms more than expected while you are there.
Options for treating hyperhidrosis
There are many ways to treat excessive sweating, including:
Specialized antiperspirants
Your doctor may prescribe an antiperspirant containing aluminum chloride.This type of antibiotic is stronger than other over-the-counter medications, and is often used to treat mild hyperhidrosis.
Ion migration
This process uses a device that sends light electrical currents while immersed in water, often directing currents toward your hands, feet, or armpits to temporarily block sweat glands.
Anticholinergic drugs
Anticholinergics may ease general sweating, as these drugs, such as glycopyrolate (Robinol), prevent acetylcholine, a chemical produced by the body, that stimulates sweat glands.
But the effect of these medications takes about two weeks to appear, along with side effects that may cause them such as constipation and dizziness.
Botox (botulinum toxin)
Botox injections can be used as a treatment for severe hyperhidrosis, as Botox clogs nerves that stimulate sweat glands. The injection must be done several times in the beginning for the result to appear.
Surgery
Surgery is also used to treat topical hyperhidrosis. If you only experience hyperhidrosis in the underarm area, surgery may be an effective method of treatment by removing sweat glands in that area. In another option, the thoracic sympathetic nerve can be removed using endoscopy, and this method includes cutting the nerves responsible for delivering messages to your sweat glands.
Home remedies
You can also try to reduce sweating by:
 Prescription over-the-counter antiperspirants are used in highly sweaty areas.
 Bathing daily to get rid of bacteria.
 Wear shoes and socks made of natural materials.
 Allow your feet to breathe now and then.
 Change your socks regularly.
What about expectations?
Remember that focal (primary) hyperhidrosis is a treatable condition, and your doctor can help you devise a treatment plan that enables you to better control symptoms.
If the phenomenon of excessive sweating is caused by a disease or a specific circumstance, then it is expected that this sweating will disappear with the treatment of the cause causing it, as treatments of generalized (secondary) hyperhidrosis depend on the underlying condition leading to sweating, so we recommend that you check with your doctor if you think that what It affects you sweating is a side effect of a particular drug, often the doctor will replace this drug or reduce the dose for you.
You must read it also :
You may also like that one :